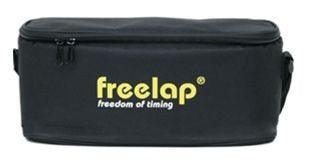 Freelap Pro BT 112e
The Freelap Athletic Kit 112e allows athletes to time runs over a set distance from either a Fly-in or stationary start.
You can also add a split time.
The new generation E-Startter transmitter recreates the same starting conditions as competition race, replacing the traditional powder or electrical gun. 
Data is sent instantly to a smartphone or tablet.
Simply open the MyFreelap App on your device, attach the BLE chip to your waist, set the first transmitter to start, the second to finish and start your run. 
All data is saved to the MyFreelap App.
The easiest timing system on the market.
To add extra split times all you require is an additional Tx Junior Transmitter.
Have a friend or a training group, All they need is an additional Freelap BLE chip.
Kit Includes
1 x  BLE Chip
1 x Tx E-Starter Transmitter
2 x Tx Junior Transmitters
Contact Details
Phone: (07) 55 407 803
Email: sales@nordicsport.com.au
Postal Address
Nordic Sport Australia PO Box 126 Labrador QLD 4215 AUSTRALIA
Warehouse Address
Nordic Sport Australia 30/8 Distribution Court Arundel QLD 4214 AUSTRALIA
Nordic Sport
Australia's leading sporting supplier